Are You Ready To Make a Difference?
We are looking for more stays! Help us build a sustainable & conscious travel platform and list your hotel/resort/guesthouse/hostel/rentals on our website. Are you a lodging owner and want to be part of Sustaying? You can add your own listing now and we will upgrade you to a Premium member for three months for free, to say thank you for being a pioneer! Use Coupon Code 'WelcomePioneer' after selecting our Premium Plan during sign-up. After the three months you will be automatically changed into a free membership if you don't want to pay for a Premium Membership.
Why should you list your stay with Sustaying?
Free promotion on our website and social channels (Facebook & Instagram) if you fit our sustainability criteria.
Be part of a sustainable travel platform and start to make a difference
Talk with your customers directly through our messaging system (only for Premium Members)
Share your stay with whoever you like, without paying for booking fees or website hosting*.
Your own personal dashboard with audience insights:
Sustaying is gaining more popularity each day and is SEO-optimised so your stay can be found through Google. We are currently on the first page in the search results when looking for 'sustainable stays'!
Learn how to become a more responsible stay through your guest's reviews and through our own personal recommendations
You will get a free 3-month premium membership as long as we are growing (limited time only!). After that it's only $5 USD per month to stay Premium.
We might mention you in our monthly newsletter to put your stay in the spotlight: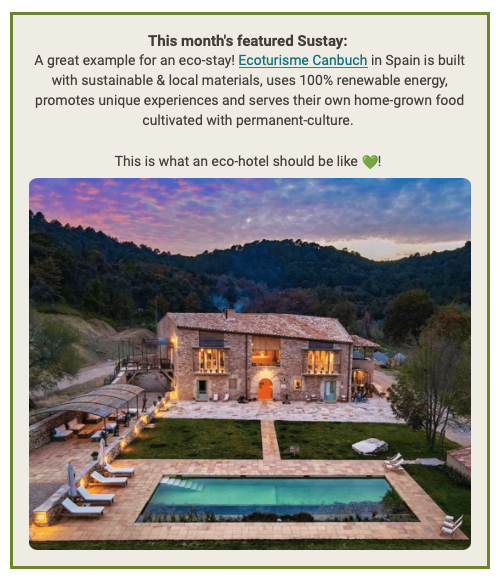 Not any costs involved (not now and not ever, unless you sign up for a Premium Membership after your trial period)
*Please be aware that you are responsible for your own bookings, taxes and payment gateways. Sustaying is not a booking platform; customers can talk to you via our website, but you will need to have your own reservation system in place.
Can't wait to be part of Sustaying? Check out this page to see how it works! 
About Sustaying
Sustaying is a platform just like TripAdvisor, but we only focus on sustainability reviews. We want to make it easier for travelers to find accommodation that have a positive impact on the world and support local people.