Looking for options to book sustainable accommodation can be overwhelming. If you are interested in staying in eco-friendly hotels you probably don't even know where to start or which websites to trust. How do you know if your money ends up with the right people? There are so many (new) platforms that offer you to be part of responsible tourism these days. But how do you recognise which ones are genuine? 
How to find sustainable accommodation websites?
With Sustaying also being a start-up, I spend a lot of time researching new ecotourism initiatives. And I soon discovered a pattern: the start-ups that are genuine all have founders who really have a heart for travel. They know what it's like to be part of this industry. Also, they don't seem to be in it for the money, but have a real desire to transform tourism to be more sustainable. The following start-ups are stand-alone businesses, which means they don't belong to an underlying franchise website. This is also something that in my opinion makes a platform more trustworthy. 
1. Socialbnb
Socialbnb is a new platform where you can book accommodation that directly supports local projects. Places listed on socialbnb are all linked to a social initiative. So the money you spend on your overnight stay immediately goes into supporting the local community. You can choose projects based on education, nature preservation, animal welfare, equality, health or sports. 
"Your stay supports the financing of amazing projects and thus you have a positive impact on the region and the local community. "
The founders of socialbnb Alex and Nils are both passionate about travel and community. Like my own motivation for Sustaying, they also got the idea for socialbnb while faced with an issue during their travels. They founded socialbnb in 2020 and it has been steadily growing since then. They even got the attention of several important investors. 
2. Singular Places
Singular Places stands out because their selection of sustainable accommodation is based on the authenticity of the host. They don't list franchise hotels and only focus on boutique hotels, restaurants, wineries, shops and museums that are individually owned in each destination. They maintain a genuine relationship with each of their stay's hosts and personally select the places they work with. Singular Places takes sustainability and community into high consideration. The guest's experience is also a very important feature.
"Most of our Hosts support local initiatives close to their hearts or connect with local Non Government Organisations (NGOs) to drive real change in their local area, to give back to their community and to start changing the world starting with their own backyard. "
The founder Lars is a boutique host & traveller himself and knows like no other how important it is to connect with unique people and experiences during your travels. That's why he founded Singular Places in 2020 and officially registered in 2021. He believes that by joining forces and offering personal support to each other, we can change the world for the better. It is not about being perfect, but about helping each other towards a bigger sustainable goal. 
3. Rethink.Travel
Rethink.Travel believes that to make conscious choices, you first have to educate yourself. On their social channels they post a lot of information about sustainable tourism and what you need to know before you start booking places. Their website features mostly luxury hotels that make a great effort in being more eco-friendly. They use 10 sustainability criteria to rate their hotels, including waste & water management, clean energy, community and education. 
"RETHINK.TRAVEL is platform for travelers who seek more from their travels than a nice place to stay."
The founder Nathalie of Rethink.Travel has been in the industry for over 18 years and decided to change her life to be more conscious. This extended to her work as a travel editor, and now she is actively working with her start-up Rethink.Travel.
4. Wayaj
Wayaj is a sustainable accommodation platform that focuses on the environmental footprint and the impact of climate change that often come with hotels. They created a unique sustainability rating to rate their stays based on different environmental criteria, like water, community, energy, materials and waste.
"Our tools are based on rigorous scientific standards. We strive to provide the most precise sustainability indicators in easy-to-use formats."
The founder of Wayaj Nelly has been in the travel branch for many years. She knows a lot about entrepreneurship and crafted a great team together for Wayaj, all travel and/or sustainability experts.
5. HeartCore Hotels
HeartCore Hotels is a sustainable accommodation start-up that lists eco-boutique hotels. They have a strong focus on vegan and discrimination-free stays. Everyone is welcome at their hotels and they have no tolerance for greenwashing, something we fully support! They are on a mission to prove to travelers that "eco" and "vegan" can be synonymous with comfort and luxury.
"We're a collection of carefully selected planet and vegan-friendly boutique hotels and retreats that strive to set an example in an industry ripe for disruption."
HeartCore Hotels has been founded by Tony and Gaby in 2020 amidst the George Floyd protests. They believe travel- if done in a sustainable, respectful and responsible manner (no to overtourism and mega resorts!) – makes the world a kinder, more tolerant and love-filled place. The website only has a stay in Hawaii for now, but more locations are coming soon.
•  •  •  •  •
I hope this list helps you to find sustainable accommodation websites that are a little bit less known. As a traveller myself I know how important it is to support the right places and these start-ups are for sure trying their best to contribute to responsible tourism.
Did I miss an important website that you would like to see featured? Please let me know!
Our aim at Sustaying is to make it easier for travellers to book sustainable accommodation, but we need help filling up our database. Have you been to a stay that you loved? Please consider adding it to our website. "
About Sustaying
Sustaying is a platform just like TripAdvisor, but we only focus on sustainability reviews. We want to make it easier for travellers to find accommodation that have a positive impact on the world and support local people.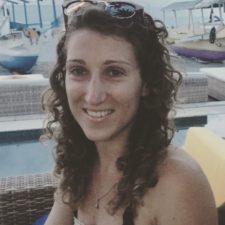 Yvette is the founder of Sustaying. She has lived abroad for seven years of her life, while travelling and working in 45 different countries. Originally from The Netherlands but now residing in Mexico, where she manages Sustaying and enjoys a kiteboarding lifestyle.