Is there really a way to fly eco-friendly? Let's be honest here. Flying is by no means sustainable. The aviation industry accounts for 2.5% of the global CO2 emissions, and represents 12% of the total emissions caused by transportation. While this number might look low, there is a catch to it.
It is estimated that only 20% of the world population has the means to fly at this moment. But if you are flying a lot, this would be your biggest contribution to climate change. If you would stop flying, your personal carbon footprint would be a whole lot lower.
So with more and more people being able to fly in the future, the CO2 emissions caused by aviation would also increase a very significant amount.
Another problem with flying is that there is still no technology available to make it greener. Road transport has various options to combat carbon emissions  – like electrical cars and green fuels – but the air industry has yet to find a solution for this.
How to fly eco-friendly if you really have to?
Of course hopping on a bus, train, or boat would be more eco-friendly than taking an airplane, but sometimes you just don't have the time or option to travel slowly. So what can you do to make your flight as sustainable as possible?
1. Choose direct flights
Taking off and landing cause the most CO2 emissions, so taking a direct flight can significantly decrease your carbon footprint. Pick destinations with direct flights and stay as long as possible in that location. Choose local transport as soon as you have arrived and avoid flying short distances.
2. Budget airlines are greener
Picking a budget airline helps you to fly more eco-friendly. They have more seats and therefore more passengers. Also, the business class in budget airlines is smaller. This matters because CO2 emissions are calculated per person. So the more people on one plane, the lower the individual footprint will be. A business class ticket increases the carbon footprint of one person by three times and a first class ticket even increases it by nine times!
3. Calculate your CO2 emissions
Not every plane is the same – different models account for a different amount of emissions.  With the website atmosfair you can calculate your flight emissions based on different factors. Airbus A320neo, A350-900, A380-800 and Boeing 787 Dreamliner are the cleanest airplanes, according to this website. Even simply knowing your CO2 emissions might make you want to fly less: the numbers are pretty shocking for long distance flights.
4. Offset your carbon footprint
Once you know your contribution to CO2 emissions, you can choose to offset them. There are different websites that invest in green projects with the money you donate for offsetting your flight, like Stand For Trees or the app Joro. Do your own research and choose a project that helps counter your flight emissions, by for example planting trees.
5. Book with a green booking site
There are websites that offset your flight emissions for free when you book a ticket, like FlyGrn. Or you can use a website to find the most sustainable option to fly, like Fly.Green. Even Skyscanner now shows the green leaf option to show which airline is more eco-friendly.
6. The airline itself matters if you want to fly eco-friendly
Some airlines have a more modern fleet, resulting in a more sustainable journey. In a CNN article about the most environmentally-friendly airlines in 2022 the following airlines are taking great steps to be more sustainable:
• Virgin Atlantic
• KLM
• EasyJet
• Air Canada
According to a report by the International Council on Clean Transportation, one of the worst ones is Kenya Airlines. This airline has older planes and more beds than the other ones, resulting in a higher CO2 emission per passenger.
7. Choose a destination with an eco-friendly airport
The airport itself can also contribute to flying more sustainably. With an increased number of flights nowadays, the airports also have to keep expanding. According to the Airport Carbon Accreditation programme, the top-3 are in Boston (USA), Galapagos (Ecuador) and Oslo (Norway). So using these airports will help you to fly more eco-friendly as well.
8. Reduce your impact on the day of your flight
When you finally have booked your ticket, there is still more you can do to fly eco-friendly. On the day of your trip, order the vegetarian meal option, pack light and take reusable items with you, like a water bottle. The amount of single-use plastic used during a flight is a whole other topic, but you can help reduce it by bringing your own cup and cutlery. Use the bus or train to get to and from the airport, or organize a carpool.
More ways to travel sustainable
In addition to being mindful about flying, there is a lot more you can do to travel more sustainably. Try to travel slow and pick the right websites to book your accommodation with. Support local hosts and take care of the environment while on your trip.
I hope these tips help you to fly more eco-friendly! Check out our other articles for more tips on how to be a responsible traveler:
– Top 10 Sustainable Travel Tips To Be a More Responsible Traveller
Our aim at Sustaying is to make it easier for travellers to discover sustainable accommodation, but we need help filling up our database. Have you been to a stay that you loved? Please consider adding it to our website. "
About Sustaying
Sustaying is a platform just like TripAdvisor, but we only focus on sustainability reviews. We want to make it easier for travellers to find accommodation that have a positive impact on the world and support local people.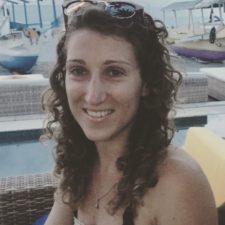 Yvette is the founder of Sustaying. She has lived abroad for seven years of her life, while travelling and working in 45 different countries. Originally from The Netherlands but now residing in Mexico, where she manages Sustaying and enjoys a kiteboarding lifestyle.