It's been a while since I posted a blog on Sustaying. To be honest, it's hard to run a conscious business that only costs money and takes all of your time. I know that it's very normal for a new business to not make any profit in the first year, but for somebody with an empty savings account (me), the reality of having to make actual money made me put Sustaying on pause for a little while. 
But something in me kept telling me I should keep pursuing this idea. Everyone that I talked to about the mission of Sustaying was enthusiastic about it and believed in it. I had to do something with this! So I evaluated my time and wrote down what I really think is important in this life. And I came to the conclusion that Sustaying could become my Magnum Opus: my greatest life achievement. 
Creating positive change
It has the perfect aspects for me to become my dream job. I want to create a positive influence in this world with something that I am passionate about: travel. I have a lot of experience with traveling and my background consists of the right amount of skills to elevate Sustaying to really become something tangible. 
But the more I talked to people about the next steps (finding investors), the more I felt I was heading in the wrong direction. I don't want Sustaying to be funded by businesses or people that have only profit and growth on their mind. I think the power of Sustaying should be to create positive change, without constantly thinking how much revenue it can create. Or how fast it can grow. 
So I decided to make Sustaying into a conscious business. 
What is a conscious business? 
A conscious business takes full responsibility for the impact they have in the world. They do this by making choices that have value for the environment as well as people. Every decision should benefit (or at least not harm) the planet. 
For Sustaying this means:
 •  Not taking money from investors that only have a profit mindset
As a conscious business owner I can't accept shareholders or investors that only think about the profit potential of Sustaying.
 •  Giving value to each stakeholder
Sustaying wants to create a positive impact on each person, business or entity that interacts with the platform in some sort of way. This includes our community, the environment, shareholders and (future) employees.
 •  Having a higher purpose than just making money
With Sustaying I want to make the travel industry more responsible and create a positive change for stays and travellers all around the world.
 •  Being transparent and vulnerable
A business with a heart has more impact than a faceless company. Sustaying is led by a human, and will display humanness and vulnerability throughout their communication. This also means learning from mistakes and being transparent about them.
Inspirational business ethics
When I first started Sustaying I thought I had to follow a certain business model. I wrote a business plan, and included a section with expected profits and revenues for potential investors. I looked for advice from established business owners and they told me I should focus on what I could give in return to investors. After all, they wouldn't invest if they didn't think it was going to benefit them in some sort of way. I made a Pitch Deck and started making growth & marketing plans.
But it felt wrong. I want Sustaying to grow organically, simply because people have a genuine interest in being part of it.
I want to attract other sustainable businesses to use the platform.
I want to inspire visitors with blogs and ideas on how to travel more responsibly.
I want to network with other conscious leaders.
I want to take it slow. 
I know this won't make Sustaying grow as exponentially as it has the potential to do, but at least I know that it stays true to my own values. 
Protect the environment. Create positive change. Support the community. 
Our aim at Sustaying is to make it easier for travellers to book sustainable accommodation, but we need help filling up our database. Have you been to a stay that you loved? Please consider adding it to our website. "
About Sustaying
Sustaying is a platform just like TripAdvisor, but we only focus on sustainability reviews. We want to make it easier for travellers to find accommodation that have a positive impact on the world and support local people.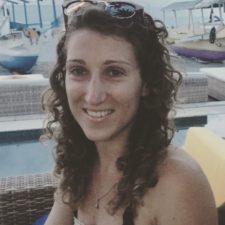 Yvette is the founder of Sustaying. She has lived abroad for seven years of her life, while travelling and working in 45 different countries. Originally from The Netherlands but now residing in Mexico, where she manages Sustaying and enjoys a kiteboarding lifestyle.