Move away, digital nomad! There is a new trend that is much more rewarding for those who wish to work and travel. Meet the Digital Slomad.
"Digital Slomad" is a term derived from the combination of "digital nomad" and "slow travel." A digital slomad is more focused on being a responsible traveler and tries to limit their impact on the environment.
By staying longer in one place, you'll have more time to really explore a destination, make friends with the locals, and don't use polluting air travel all the time. Digital slomads tend to bond more with their location, making them more likely to want to protect it as well.
After all, a normal digital nomad usually doesn't stay anywhere longer than two months and often flies quickly between countries and even continents. As you can imagine, this is not a very environmentally friendly way to travel.
Why Is a Digital Slomad Better Than a Digital Nomad?
As the trend of digital nomadism rises, so does the concern about the influence of digital nomads on the environment. Digital nomads tend to bring a lot of foreign money into an already popular place, pushing the locals out of their homes and putting a lot of pressure on the infrastructure.
And as quickly as they arrive, as quickly they move onto their new destination – taking flight after flight. They tend to be quite rushed, wanting to see as much of a location as possible in a short amount of time. They make friends with other remote workers and inspire each other to move on to new locations.
A Digital Slomad, however, takes their time to really settle in for a while. I personally like to stay somewhere for at least three months, but prefer even six months. This gives me time to get to know the locals and move away from the crowded touristy locations.
I believe a Digital Slomad is better than a Digital Nomad because when you stay somewhere longer, you start to live more like a local. This gives you a better understanding of the culture and the way people behave. Making friends with locals also enables you to help them where needed. After all, you probably have a much bigger salary than they have but still use the same amenities.
Here are 5 more reasons why you should become a digital slomad instead of a digital nomad:
1. Slow travel is better for the environment
If you are a traveler, you most likely know that flying is a very polluting act for the environment. But as a digital slomad and staying for six months in one place – theoretically, you would only need to take one to two flights per year to go to your next destination.
Besides that, slow nomading is also beneficial for the location you're in, since digital slomads often seek out unique and less crowded destinations. By choosing to stay in off-the-beaten-path locations, you can help promote and revitalize lesser-known destinations and contribute to a more sustainable tourism model.
I wrote another blog about the benefits of slow travel in case you're interested.
2. A slomad lifestyle is better for your soul
It's hard to build a routine when you're only staying somewhere for a month. This can leave you feeling rushed and overwhelmed, often with only superficial friendships. If you are a digital slomad though, you have more time to get back into healthy routines, like cooking, working out and practicing mindfulness.
Having time to explore the surrounding area of your location also gives you more Soul nourishment, as you really dive deep into how it feels to live full-time there. You have more time to make real friends and get to know each other beyond the remote workspace.
3. A digital slomad supports local communities
As a digital slomad you stay in one place for a longer period, which can provide a steadier and more predictable income stream for local businesses. Travelers often only go to locations where the weather is good, and they avoid low seasons. Because of this, places have to depend on only one season of income.
If you stay longer in a location as a slomad, you keep supporting the local businesses there and spread out the main touristy season. This is beneficial for local communities as they often rely on tourism.
4. A digital slomad bonds with a country
A digital slomad is more likely to adopt sustainable practices because they stay longer. You naturally bond to a country if you build a life there. You become invested in the well-being of the destination and probably feel the need to help with conservation efforts, reduce waste, and other environmentally friendly initiatives.
When I stayed one year in the Baja desert in Mexico, I saw clearly that foreigners needed to educate the locals about, for example, trash and sustainable fishing. Many of my foreign friends who settled there felt the same and even started businesses to make the area more sustainable.
When you love your life somewhere so much, it's only natural to want to protect it, too.
5. More time to build long-lasting friendships
One big perk of being a remote worker is that you meet a ton of people. But when everybody travels on quickly, you also lose these friends easily. During my backpacking years, I have met so many great friends, but it's hard to stay in touch when you lives continents apart.
Also, as a traveler, it's unlikely you meet many locals, and you usually hang out with fellow travelers and remote workers.
A digital slomad, however, has the benefit of bridging the gap between travelers and locals. You still have access to all the digital nomad meet-ups, but also have more time to learn a language and get to know how the locals live.
6. Digital slomadism brings prosperity to a place
Digital slomads (like any remote worker) also need reliable internet and want to have the freedom to work in cute cafés. So when foreigners stay somewhere longer, this also brings services to a location.
Many slomads build their own sustainable businesses or initiate projects that benefit the whole community. And the more digital slomads stay in a place, the more prosperity it attracts.
Tips to Become a Digital Slomad
Do you want to become a digital slomad? Here are some tips to get you started:
Choose your destinations wisely
Research and select destinations that align with your interests, work requirements, and values. Look for places that offer a balance of modern amenities and authentic cultural experiences. Consider factors like cost of living, internet connectivity, safety, and local activities.
Popular digital nomad locations like Mexico, Portugal, Bali, and Thailand are getting saturated. Try to explore other less-touristy countries, like Albania, Bulgaria, Taiwan, or El Salvador, where digital nomadism is rising, but not yet fully established.
Plan longer stays
Instead of hopping from one place to another quickly, aim for longer stays in each location. This allows you to settle in, establish routines, and truly immerse yourself in the local culture. Consider staying for three months or more to experience the destination on a deeper level.
There are platforms that promote mid-term stays, like Flatio.com. Flatio is a rental housing platform for digital nomads, offering hand-picked, mostly deposit-free, and reasonably priced accommodations in over 300 destinations, mainly in Europe. Here you can rent a room or apartment – often from a local – to rent it for a longer period.
Flatio is a great way to immerse yourself in the local culture and put some money in the pockets of the local renters.
Build a sustainable routine
Create a balanced daily routine that integrates work, leisure, and exploration. Dedicate focused work hours while also setting aside time to explore your surroundings, engage with locals, and participate in meaningful activities. This routine will help you maintain productivity and well-being.
Engage with local communities
Make an effort to connect with locals and other travelers. Attend local events, workshops, and meetups to build connections and learn about the culture. Engaging with the community will enhance your experience and provide opportunities for cultural exchange.
A good way to plan activities is by using the platforms GetYourGuide or MeetUp. They have activities all over the world, often organized by locals. Also, groups on Facebook can be very handy to engage with the community.
Prioritize mindful travel
Practice responsible and sustainable travel habits. Minimize waste, reduce energy consumption, and support local businesses. Make an effort to learn about the environmental and social concerns of the area and find ways to positively contribute to the community.
Read my blog about being a responsible digital nomad for more inspiration.
Conclusion Digital Nomad vs. Digital Slomad
In a world propelled by rapid travel and digital connectivity, the rise of the Digital Slomad offers a refreshing perspective for those seeking a richer, more responsible way of life. By embracing longer stays and forming authentic connections, you can explore the world in a way that nurtures both your wanderlust and the planet.
The benefits are abundant – from reducing your carbon footprint to fostering cultural exchange, meaningful friendships, and supporting local economies. It's a call to redefine travel, to savor the journey, and to inspire positive change wherever your laptop takes you.
Embark on the journey of a Digital Slomad and experience the world in a way that truly matters.
Our aim at Sustaying is to make it easier for travellers to discover sustainable accommodation, but we need help filling up our database. Have you been to a stay that you loved? Please consider adding it to our website. "

About Sustaying
Sustaying is a platform just like TripAdvisor, but we only focus on sustainability reviews. We want to help travellers discover sustainable accommodation that have a positive impact on the world and support local people.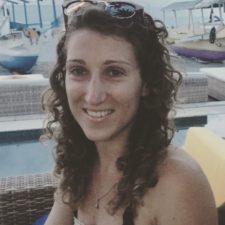 Yvette is the founder of Sustaying. She has lived abroad for seven years of her life, while travelling and working in 45 different countries. Originally from The Netherlands but now residing in Mexico, where she manages Sustaying and enjoys a kiteboarding lifestyle.