Disclosure: Some of the links on this website may be affiliate links, which means that I may 
earn a commission if you click on the link or make a purchase using the link. 
Living abroad while working remotely is gaining in popularity in the last few years. And with this rising trend, it's important to be a responsible digital nomad. After all, being a remote worker is a privilege only reserved for a select amount of people. Your passport and job determine whether living abroad while working can be achievable for you.
Only jobs that can be done entirely online qualify for the digital nomad life. You most likely also need a certain passport to be able to stay in a foreign country for an extended amount of time. The harsh truth is that it's much easier for people from developed Western countries to become digital nomads.
You can imagine that this privilege can cause a lot of problems for developing nations. After all, digital nomads often earn many times more than the average salary of a local in a host country. This means they can afford higher rents and buy more expensive things, raising the prices significantly in those regions.
The problem with digital nomads living in developing countries
Many countries don't have (employment) laws for digital nomads, meaning remote workers can operate below many tax rules but still reap all the benefits from living in that country. It can cause gentrification and drive locals out of their homes.
In my opinion, countries should be more prepared for accepting digital nomads and make them pay special taxes. Being a digital nomad myself, it is almost impossible to comply with local tax rules when having your own (foreign) company.
I would way rather pay taxes in Mexico (where I live) than in my home country, the Netherlands. But working online as a freelancer obligates me to pay taxes in my country of tax residency, which is still the Netherlands.
I've seen with my own eyes what the digital nomad lifestyle can do for a place. I live in Baja California in a popular kiteboarding town, and the prices have gone up immensely here in the past years. Rent has tripled, and many foreigners have established businesses in this area. Sometimes they even gain income that otherwise locals would earn.
It pushes locals out of their houses, especially in beachfront locations. It also intensifies the gap between rich and poor, as local Mexicans who work with tourists saw a massive increase in their income. But locals working local jobs were not entitled to any of these benefits. And they still have to pay the same high prices that everyone else pays as well.
How to be a responsible digital nomad?
Fortunately, being a digital nomad is not only bad. It can bring great development to a poor area and generally increases the income of locals living there. Imagine having to work six days a week for a mere $400 USD per month, while now you can earn double that money by just renting out a room in your house.
Many smart locals welcome the digital nomad trend, as it brings more opportunities for their businesses. I have talked to a couple of locals here about this issue, and many say they don't mind it because it brought so much more money to their families. They charge more to a foreigner than to a Mexican, which you might think is unfair but is actually pretty smart (I would totally do the same!).
Many don't mind moving to another part of town if their beachfront house can bring in an additional $1,000-2,000 USD per month without much extra work. Local Mexicans saw their land prices here increase up to five times as well and many have become rich in just one sale.
This is a completely different issue that the digital nomad lifestyle could bring though, as at some point the whole town could be exclusively owned by wealthy foreigners or rich residents from other areas.
There is a lot more to say about remote work pros and cons, but digital nomadism is not something that is going to stop anytime soon. So the key here is to act as much as possible as a responsible digital nomad, and here are 9 tips on how to do it:
1. Take it slow as a slomad
Digital nomads are known to travel from country to country, taking many flights, and don't really get to experience the country from a local perspective. To be a responsible digital nomad, consider staying in a place for a longer period of time (at least six months). This way you can develop a relationship with the area and know what you need to do to limit your footprint.
Flying is a very unsustainable way to travel, and when you stay somewhere longer, you can limit this mode of transport. Explore the area around your destination with local transport and immerse yourself in the culture as a slomad (slow nomad).
You might even fall in love with a place that you decide to stay there longer, become a resident, and actually pay your taxes!
2. Find house sit gigs instead of renting
One of the digital nomad benefits is that you are location-independent. As long as you have your computer and an internet connection, you can live anywhere.
Many houses around the world are empty for an extended period of time. Either because the owners are going on a vacation, or because it's somebodies second home, or it is low season in that area. It opens up a wealth of opportunities for digital nomads since they can fill those spaces.
The good thing about house-sitting is that you don't push locals out of their homes. And you occupy an otherwise empty house. If you are house-sitting during the low season (mostly rainy or hurricane seasons), your presence will also bring in extra income for locals living there year-round.
You can find house sits on many different platforms (just Google it), but I've had the most success by becoming a member of local Facebook groups. Determine which location you want to be in and search for a group in that area.
3. Book accommodation from locals
If house sitting is impossible or not available, make sure to book from locals. This can be either a hotel owned by locals or a room in the house of a local resident.
To be a responsible digital nomad, do your research before signing up for long-term rent. Is the money you are paying going directly to that area, or is it transferred straight out of the country? A big problem with many AirBnb is that wealthy foreigners buy places, only to rent them out for high prices. This is not responsible at all and not fair for the local community.
Sustaying is a platform aiming to make it easier to find places like these. Stays on this website will display whether or not they are locally-owned and how sustainable their practices are. If you like this idea, please make sure to spread the word by sharing our website!
4. Support local businesses
If you are a conscious digital nomad, please always choose local over franchise. Get your coffee at the locally-owned coffee shop instead of at Starbucks and eat at the local restaurant. Check if your tour operator lives in the same area, and buy your souvenirs at local stores.
You can truly make a difference as a digital nomad by supporting the locals wherever you can. Besides that, you can learn much more about the culture of your host country when you buy from locals!
5. Put some of your income back into the community
One of the digital nomad benefits is that you can save a lot of money by living in a cheap country, while still earning a Western salary. Why not put some of these extra savings back into the community that is giving you so much?
Give extra tips to the staff, donate some money to local initiatives, and don't try to hustle for a lower price wherever you go. Of course, be mindful of not getting scammed and overpaying notoriously, but it's nice to give some extra cash away there where it's needed.
You can also help out with beach clean-ups (or organize one!), teach the locals English, or help improve your surroundings by donating your time.
6. Set the right example
Here is a sad truth that I've come across many times during my travels: most places are not sustainable at all. There is overfishing in the area, trash everywhere, over-use of alcohol and drugs, no proper sewage system, mega-resorts, and generally, the surrounding nature is not well-taken care of.
You can set an example by being a sustainable digital nomad wherever you go. For example, you can bring reusable containers when ordering takeaway or for leftovers after eating out. Or pick up trash where you see it. Only eat locally-sourced food and don't buy bottled water.
Engage with the locals and learn to understand their perspectives. What can you do to make that place better? Maybe you can help with better drinking water options, or make sure certain natural areas are better preserved.
Read our article about responsible travel for more tips!
7. Be a minimalistic responsible digital nomad
If you are a digital nomad, you know that you don't need much at all to live comfortably. While some may consider this a remote work drawback, many embrace the minimalistic lifestyle. I have traveled around the world with only a 35-liter backpack and couldn't be happier.
Being minimalistic also makes you a more responsible digital nomad. After all, you don't buy into the deceiving consumer market and don't buy excess stuff you do not need. This results in less waste and all the negative by-effects that come with being materialistic.
You don't need to buy new clothes wherever you go and also don't need the latest tech gadgets. Be mindful of your purchases and live a minimalistic digital nomad lifestyle.
8. Choose off-the-beaten track destinations
One of the work from anywhere drawbacks is that you can be attracted to 'easy' digital nomad locations, which can end up being as expensive (or more) than your own country. Popular remote work hubs, like Tulum (and the rest of the Mexican Riviera Maya), Portugal, Bali, Thailand, etc. are overflowing with digital nomads – more than the place can handle.
Choosing such a location can bring resentment to the local community and drives the prices up incredibly. You are a better responsible digital nomad if you avoid those places and instead, choose locations off-the-beaten-track.
Not only gives this more business opportunities for the locals there, but it also takes the pressure off those popular destinations.
9. BONUS: Make sure your health insurance is in order
This tip might look weird on the list of tips for a sustainable digital nomad lifestyle, but having health insurance contributes to being more responsible. After all, thanks to health insurance you have the chance of going to a private hospital (as opposed to a public one). This leaves more space for locals without much money to use their public hospitals.
Travelers without health insurance would probably choose the cheapest option possible. Options that should be kept available for the community. Besides that, having a Nomad Insurance like SafetyWing, will most likely make you seek treatment earlier when an injury or illness does come up. This lowers the chances of needing extended treatment, taking more time and space from hospitals that were meant for the local community.
Having health insurance makes sure local doctors and hospitals are getting paid what they deserve. You'd be surprised how many travelers want to get out of their hospital bills and leave without paying or can't afford the invoice.
Interested in learning more about Nomad Insurance? You can already get covered for $45.08 USD per month!
Becoming a responsible digital nomad starts with education
I've learned many lessons during my own digital nomad life, and I hope I can inspire others with these tips. There are many remote freelancing advantages and disadvantages but if we all try to be as responsible as possible, the digital nomad lifestyle can be beneficial to everyone.
Many locations have flourished under the influence of digital nomads, and many remote workers want to set the right example to be more sustainable. Having the advantage of being more educated and aware, we can inspire others to be more responsible as well.
For example, in my town in Baja California, local shark fishermen have now turned into tourist boat captains. Now they are saving the sharks and getting more income at the same time. This is a great example of some digital nomad benefits that can help a location get more sustainable!
Our aim at Sustaying is to make it easier for travellers to discover sustainable accommodation, but we need help filling up our database. Have you been to a stay that you loved? Please consider adding it to our website. "
About Sustaying
Sustaying is a platform just like TripAdvisor, but we only focus on sustainability reviews. We want to help travellers discover sustainable accommodation that have a positive impact on the world and support local people.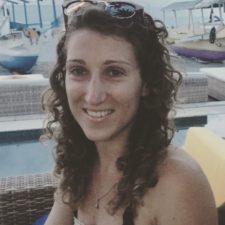 Yvette is the founder of Sustaying. She has lived abroad for seven years of her life, while travelling and working in 45 different countries. Originally from The Netherlands but now residing in Mexico, where she manages Sustaying and enjoys a kiteboarding lifestyle.