Ideally, we all want to be a sustainable traveler now that everybody is getting more aware of our environmental footprint. But what exactly do you need to do to become a sustainable traveler? Here are our top 10 easy travel tips to discover the world sustainably.
What is sustainable traveling?
Before we get into how to travel more eco-friendly, let's first see what eco-tourism actually is. According to the website of ecotourism.org:
Ecotourism is now defined as "responsible travel to natural areas that conserves the environment, sustains the well-being of the local people, and involves interpretation and education."
It's important to realize that a sustainable traveler is not just focused on caring for the environment. Responsible travel also needs to have a positive influence on the local community and yourself. I personally couldn't agree with this more, because as a long-term traveler myself I have seen the devastating effects it can have on nature and the local people from up close. In fact, it was the main reason I created sustaying.com! I often felt guilty about being a full-time traveler and flying to a lot of destinations. I was always enjoying my holiday with my western salary while the local people were working so hard for little in return. Luckily being a traveler is not always a bad thing and with these sustainable travel tips, it's actually a good thing that tourism exists!
1. Fly less, but don't stop going far away.
The tourism industry is responsible for 8% of the carbon emissions worldwide, and this will likely double or even triple by 2050. But to completely stop flying is not a solution here. Many far-away destinations rely on tourism and can't be reached by other means of transport for many people. The best thing to do is to have longer holidays and take non-stop flights. Choose airlines that offset their carbon footprint or at least give you the option to pay extra for that. Look for the green leaf on Skyscanner to book with greener airlines. Once you reach your destination, don't fly anymore but travel overland.
2. Choose local, eco-friendly stays
Your accommodation is a big part of your holiday and can also have an enormous environmental footprint. Choose stays that are owned by locals and are more eco-friendly. Many big hotels waste a lot of electricity, use excessive single-use plastics and the money doesn't end up in the local community. Here's an article we recently wrote on what to think about when choosing a sustainable stay. In the future, you can also use our website to find out if the stay you are going to book is sustainable!
3. Don't exploit animals
Seems like an easy one to be a more sustainable traveler, but many people still exploit animals on their vacation. Make sure you don't swim with dolphins, don't ride elephants and don't take cute pictures with wild animals in captivity. Also don't buy souvenirs made from animals (like shells, dried insects, snakeskin leather etc.). Avoid visiting shows with animals that are performing tricks and don't drink civet coffee (coffee made from the beans pooped out by cats). If you really love animals, also don't eat any meat because many farmed animals experience horrible living conditions, especially in poorer countries.
4. Travel slow and long
It is better to take one long trip than several short holidays. First of all, because you will fly less, and secondly because you really get to experience a country and the culture more. Traveling slowly means you will use less transportation between places and don't contribute to over-tourism. The benefit of slow travel is that you have more time to experience destinations that are a bit harder to reach. Therefore it will most likely attract fewer tourists than all the popular places. Your hotel also needs to wash the sheets less often, because you stay longer in one location.
5. Don't use single-use plastics
One of the most important sustainable travel tips is to bring your own water bottle to refill, instead of buying plastic bottles (choose a stay that has this option!). Don't use the plastic toiletries provided by your hotel and don't use plastic bags when shopping. You can even bring your own reusable plate and cutlery to use when you buy street food, as these places normally use a lot of single-use plastics.
6. Choose eco-friendly activities
Go hiking, book a biking tour, learn about the culture with a local and choose eco-friendly tour operators that support the local community. Don't choose activities that use a lot of fossil fuels like jetboating, renting a jetski or big jeep tours. And of course, don't spend your money on activities that exploit animals.

7. Eat local and vegetarian
Food is a big part of traveling, it's mouthwatering to think about all the delicious flavors and spices in foreign countries! Choose restaurants owned by locals and eat preferably vegetarian or even vegan. Please don't stay in hotels with big food buffets as they are prone to food waste. And don't go to chain restaurants like Starbucks, Subway and McDonalds, because their money doesn't usually stay in a foreign country. Embrace the local food culture and support the locals!
Tip: If you don't know where to start, GetYourGuide has great local food tours.
8. Support the locals
We can't say this enough, but please support the locals as much as you can! Travelers usually make a lot more money than the local community, so don't let it end up in the hands of big foreign corporations. Buy locally crafted souvenirs from stores with local owners and avoid the Chinese mass-produce tourist shops. Stay in locally-owned accommodation and choose local tour guides. Eat in local restaurants or buy local produce at markets instead of big supermarkets. Withlocals.com is a great site to book tours with locals in Europe and avoid the crowd.
9. Get off the beaten track
Many places suffer from over-tourism: destinations flocked by an overwhelming amount of tourists. This is not only bad for the place itself (think about all the wear and tear on historical sites), but also for the experience that you are about to have. Who wants to look at a temple covered with people and buzzed by the amounts of drones flying above it? These places often charge high entry fees and are very prone to scams too. It's more responsible to go to less popular places and support the locals there too. Bonus: the experience is a lot more rewarding and authentic!
10. Choose sustainable transportation
Avoid flying as much as possible (but as mentioned before, probably don't stop going to far-away destinations), and choose sustainable transportation. Take a local bus instead of a taxi, and bike or walk more. Don't rent a car but try to travel by train. When you do have to fly, choose airlines that are more eco-friendly.
Why should you be a more sustainable traveler?
Traveling can have a great positive effect on a country and local economy, but make sure you are a conscious traveler. Ecotourism is about traveling that supports the environment, the local nature and culture, and the prosperity of the local population. Travelers should discover the world as responsibly as possible and leave a small ecological footprint. This means they don't support the typical mass tourism and all-inclusive holidays in mega-resorts.
You as a sustainable traveler can create employment for locals by supporting small-scale, local organizations. You consider the preservation of and respect the culture, nature and wildlife. And you try to burden the environment as little as possible.
Fortunately, ethical and green travel is becoming increasingly more popular. We hope these easy travel tips help you to be a more sustainable traveler!
Our aim at Sustaying is to make it easier for travellers to book sustainable accommodation, but we need help filling up our database. Have you been to a stay that you loved? Please consider adding it to our website. "
About Sustaying
Sustaying is a platform just like TripAdvisor, but we only focus on sustainability reviews. We want to make it easier for travellers to find accommodation that have a positive impact on the world and support local people.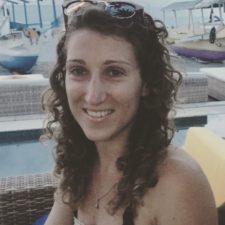 Yvette is the founder of Sustaying. She has lived abroad for seven years of her life, while travelling and working in 45 different countries. Originally from The Netherlands but now residing in Mexico, where she manages Sustaying and enjoys a kiteboarding lifestyle.