Glamping tents, also known as luxury camping or glamorous camping, have become increasingly popular in recent years as more people look for unique and sustainable travel experiences. With the rise of eco-tourism, it's important to consider the sustainability of glamping tents and how you can make sure you are choosing the right set-up. In this article, we will explore how glamping tents can be more sustainable and what you should consider before booking a tent in a glamping resort.
What is Glamping?
Glamping is a form of camping that combines the experience of being in nature with the comfort and luxury of a hotel room. The term glamping is a combination of the words 'camping' and 'glamorous'. It offers a unique way to escape the hustle and bustle of city life and reconnect with nature. Glamping tents typically have comfortable furnishings, electricity, and sometimes even private bathrooms and kitchens.
Glamping is not limited to just the white canvas tents, and can take many other forms too. A yurt, a cabin, a tiny home, a swift pod, or anything else that is easily removable from the environment but still offers comfort can also be called glamping.
How to Make Glamping Tents More Sustainable?
Glamping tents are typically made from eco-friendly materials, such as canvas or recycled fabrics, and they often use renewable energy sources such as solar power. This helps reduce the environmental impact of glamping and makes it a more sustainable form of tourism. Additionally, glamping tents are often located in areas where it's hard to build something permanently. The fact that you can remove glamping tents without leaving a trace often makes them a more sustainable option.
But there are still ways to make them even more environmentally friendly. If you are looking to book a sustainable glamping resort for your holiday, check if the place has these things in order:
1. Renewable Energy Sources
One of the main ways to make glamping tents more sustainable is by using renewable energy sources. Solar panels, wind turbines, and micro-hydro systems are all great options for powering glamping tents. Not only do they reduce the environmental impact of glamping, but they also provide a more immersive and sustainable experience for guests.
2. Eco-Friendly Materials
Another way to make glamping tents more sustainable is by using eco-friendly materials. Canvas or recycled fabrics are great options for the tent material, while natural, organic materials such as bamboo, hemp, and linen can be used for the furniture and bedding.
3. Reduce Waste
One of the biggest environmental challenges in glamping is reducing waste. To mitigate this, glamping sites can provide composting toilets and use environmentally friendly cleaning products. They should also encourage guests to recycle and reduce their waste while staying in the tents.
4. Use Sustainable Land Management Practices
Glamping tents are typically located in remote areas, and it's important to consider the impact they have on the local environment. Sustainable land management practices, such as preserving natural habitats, reducing water usage, and using sustainable waste management systems, can help minimize the environmental impact of glamping.
5. Partner with Eco-Friendly Businesses
Finally, glamping sites can partner with eco-friendly businesses to offer sustainable experiences to guests. This can include buying locally-made toiletries, offering eco-friendly tours, sustainable food options, and other environmentally friendly activities. By partnering with sustainable businesses, glamping sites can help support the local economy and reduce their overall environmental impact.
More things to consider
Glamping tents are a unique and sustainable way to travel and experience nature. However, it's important to note that there are more considerations to make a glamping resort sustainable. Single-use items should be avoided at all costs, and proper waste management has to be in place. Glamping tents are not sustainable if they harm the environment in any way.
Glamping tents also don't last forever, so the more durable the material is, the better. A cheap, plastic tent is not as sustainable as canvas or other natural materials. It would be great if the resort does something useful with tents that need replacement.
Finally, it's also important that you are a responsible tourist yourself as well. This means respecting the local community, preserving the natural environment, and supporting local, eco-friendly businesses. We wrote a blog with easy sustainable tourism tips if you are interested.
We also wrote an article with 20 questions you should ask your hotel to determine whether they are truly green. You can also use this for glamping resorts, of course!
Our aim at Sustaying is to make it easier for travellers to discover sustainable accommodation, but we need help filling up our database. Have you been to a stay that you loved? Please consider adding it to our website. "
About Sustaying
Sustaying is a platform just like TripAdvisor, but we only focus on sustainability reviews. We want to help travellers discover sustainable accommodation that have a positive impact on the world and support local people.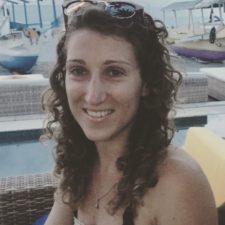 Yvette is the founder of Sustaying. She has lived abroad for seven years of her life, while travelling and working in 45 different countries. Originally from The Netherlands but now residing in Mexico, where she manages Sustaying and enjoys a kiteboarding lifestyle.