Greenwashing in tourism is a harmful practice that makes people believe that they contribute to eco-friendly travel, while in fact, the opposite often happens. Greenwashing is used as a marketing technique to attract more customers. The consumers think they are spending their money on something sustainable, but the establishment doesn't do anything to contribute to responsible travel.
This type of promotion makes it very hard to trust in companies that do actually want to change tourism for the better. They often use a similar type of marketing to promote how truly eco-friendly they are, but you might mistake it for greenwashing. This makes it very hard for the whole sustainable travel industry to be trustworthy.
Why is it called greenwashing?
Greenwashing is a word used to describe how businesses 'wash' their public image green, by using green words and fake eco-friendly promises to attract a certain crowd. Greenwashing in tourism can be especially damaging, because the travelers that do actually want to spend their money on truly responsible trips, end up wasting it on money-driven companies.
Hotels or tour operators for example make you believe that their activities help the local communities or animals, but in reality they exploit them. They pay low wages and most of the profits end up with rich owners or investors.
Or they pretend that you are going to visit an animal sanctuary and that interaction with the animals is something the animals enjoy. I was even once told that riding an elephant rescued him from performing in a show and that paying for rides with them was actually saving the elephant.
Examples of greenwashing in tourism
So how do you spot greenwashing in the travel industry? How do you know if a company has the best intentions or is just in it for the profit? Here are a few examples:
• Promoting fake 'eco' labels
Many eco-friendly labels or certificates don't even exist or don't audit their clients. At the moment there are more than 150 global 'eco' labels in circulation, how do you know which ones to trust? It is very easy to use a fake green label and put a logo or picture on your website to make things look sustainable. And even if the label is real, did the business really deserve it?
Another problem with eco-labels is that they usually cost a lot of money to obtain, so they automatically discriminate against businesses that can't afford those labels. This makes the gap between legitimate responsible companies and money-driven businesses even bigger. These kinds of labels are also prone to corruption, since the auditing of certificates requires a lot of in-depth (expensive) investigation and are often easy to buy with just enough money.
• Focusing on one positive thing and avoiding the rest
Some travel companies do one thing right – like donating money to local schools – but fail to be sustainable in any of their other practices. For example, they highly advertise how much money they donate, but underpay their local staff consistently. Or they provide drinking water stations to fill up your water bottle, but still use single-use plastic toiletries in their bathrooms.
Truly sustainable hotels take an effort to be responsible in multiple areas of conservation. They change their own behavior to be more eco-friendly, even if that costs them more money that doesn't directly translate to more profit. Nobody is perfect and we all gotta start somewhere, but just doing one good thing to only enhance your public image is greenwashing.
• Using laws to pretend they are eco-friendly
This is a tricky one. A hotel or restaurant promotes that they eliminate plastic straws and/or plastic cups, while this is actually demanded by a local law. Many locations with tourism close to the sea make it mandatory for businesses to reduce the amount of plastic they use, but some hotels abuse this law to just pretend they are green.
They don't really care about being eco-friendly, but they see the benefit of promoting a mandatory practice to attract more responsible travelers.
• Asking you to pay or do something extra for offsetting your footprint
You most likely have seen it numerous times: little notes on bathroom mirrors asking you to please re-use your towels. Or airlines asking you to pay extra to offset your carbon footprint, but they still wrap every single fork or toothpick in plastic during your flight. If you don't do what they are asking, they won't do it either, so this is a very deceiving form of greenwashing in tourism.
You think the business cares about being sustainable, but they will just continue being harmful to the environment if you don't act. Besides that, not washing your towels or sheets actually benefits them too. After all, they use less electricity for their laundry and it will be less work for their cleaners. But does that money end up in behaving in a more eco-friendly way? Probably not.
• Using 'green' language and marketing techniques
'Eco-friendly', 'natural', 'sustainable', 'green environment', 'local resources', 'eco-lodge'… all green buzzwords to make you believe that the business cares about Mother Earth. But these words are easy to use and don't require any back-up. A hotel being in 'an all-natural environment' doesn't mean they are eco-friendly. Or displaying a green leaf or green colors in advertisements doesn't have to mean anything either.
Sometimes companies use photos of people planting trees or cleaning up plastic, but they don't actually do such things. Most people are sensitive to these types of images, and will book the place based on false beliefs.
• False claims that harm the surroundings
Another example of greenwashing in tourism is using false claims to promote certain activities. Visiting a local village to take photos with the tribe people for example. You think you support the local villagers, but end up harming their natural way of life and the way they make money. Or you volunteer at an orphanage and bring gifts, without having the proper training to interact with children.
Some companies promote interaction with or feeding wildlife, and make you think your contribution helps pay to save the animals. After all, without your money, their 'sanctuary' wouldn't even exist. But a true sanctuary doesn't let you interact with wildlife and educates you in a proper way.
• Promoting supposedly eco-friendly materials
Bio-plastic is a great example of greenwashing. Even though bio-plastic is often better than normal plastic, it is by no means sustainable. Many remote areas don't even have the proper ways to recycle bio-plastic and it still ends up in landfills.
Bio-plastic in nature also doesn't break down naturally, contrary to what you might believe. It needs a warm, humid environment to disintegrate and most natural areas don't have the right conditions. Reusable plates and cutlery should always be chosen over biodegradable materials.
Another area in which businesses falsely promote eco-friendly materials is construction. They use a lot of wood and natural resources to build their establishments. But where does this wood come from? Is it hardwood from the Amazon that took centuries to grow and won't grow back? How did they transport it to their location? Using 'natural' materials might look eco-friendly, but couldn't be farther from the truth sometimes.
How to avoid greenwashing in tourism?
It is important to tackle greenwashing because irresponsible businesses jeopardize the whole sustainable tourism industry. Well-meaning tourists end up booking places or tours that are very harmful to the environment and that take away money that was meant for responsible places. It also makes consumers lose trust in companies that actually do good. The efforts of responsible businesses are neglected and the well-needed tourism money ends up in the wrong hands.
So what can we do to avoid greenwashing in tourism?
1. Check reviews and write your own
Reviews have proven to be trustworthy sources of information in all sorts of businesses. They are written by previous customers and are meant to help others make better choices. Most reviews are independent and companies often can't manipulate them (although of course there are always cases where this happens).
Sustaying is a platform to provide exactly these type of reviews. We want to give travelers a voice to publicly display the sustainability efforts of their accommodation. These reviews are independent and stays don't have any way to delete or modify reviews. We think this is one of the most trustworthy ways to avoid greenwashing in tourism.
2. Check where profits end up
This is often hard to find out, but you can ask the management what happens to their profit. Do they invest it in the local community or environment, or do rich people just get richer? Do they pay fair wages to local staff and do the locals benefit from having a hotel there?
3. See if they can prove their practices
Does the accommodation actually care about the environment and follow through on what they claim? Do they have proof about what they are doing? Investigate their information and preferably check their credibility with a third party. A basic rule here is that the stay should leave the surroundings better or at least the same as before they were established there.
4. Hold businesses accountable
Think you were a victim of greenwashing in tourism? Put your claim down at the institution in question or file an official complaint. Many countries have Acts and organizations available to display your concern. False advertising is taken very seriously in many countries.
Write a public post (for example on Sustaying) about the business and hold them accountable.
5. Talk with the founders of the business
This might be hard when dealing with big companies, but talking with founders often gives you a lot of insight in their motivation. Are they genuinely interested in sustainable travel or do they just have a profit mindset? What do they do personally to be more responsible? A business owner driving a polluting sports car or flying a private jet around the world most likely doesn't have the best sustainable intentions.
I hope this post helps you to identity and avoid greenwashing in tourism. Do you have a tip that I missed? Please let me know! And don't forget to post your own sustainability review after staying somewhere, this can really help the travel industry to get more responsible! You can also submit your own stay on Sustaying and help travelers discover truly sustainable stays. Thank you 🙂
Our aim at Sustaying is to make it easier for travellers to discover sustainable accommodation, but we need help filling up our database. Have you been to a stay that you loved? Please consider adding it to our website. "
About Sustaying
Sustaying is a platform just like TripAdvisor, but we only focus on sustainability reviews. We want to make it easier for travellers to find accommodation that have a positive impact on the world and support local people.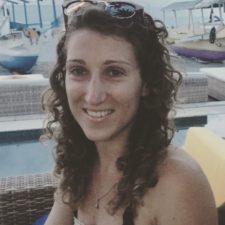 Yvette is the founder of Sustaying. She has lived abroad for seven years of her life, while travelling and working in 45 different countries. Originally from The Netherlands but now residing in Mexico, where she manages Sustaying and enjoys a kiteboarding lifestyle.